Divorce Decree Form plays a crucial role in the legal process of finalizing a divorce. It outlines the agreed terms and conditions of the divorcing parties. By actively utilizing this form, you can take charge in clearly defining and legally binding all aspects of the divorce. This includes asset division, child custody arrangements, and support obligations.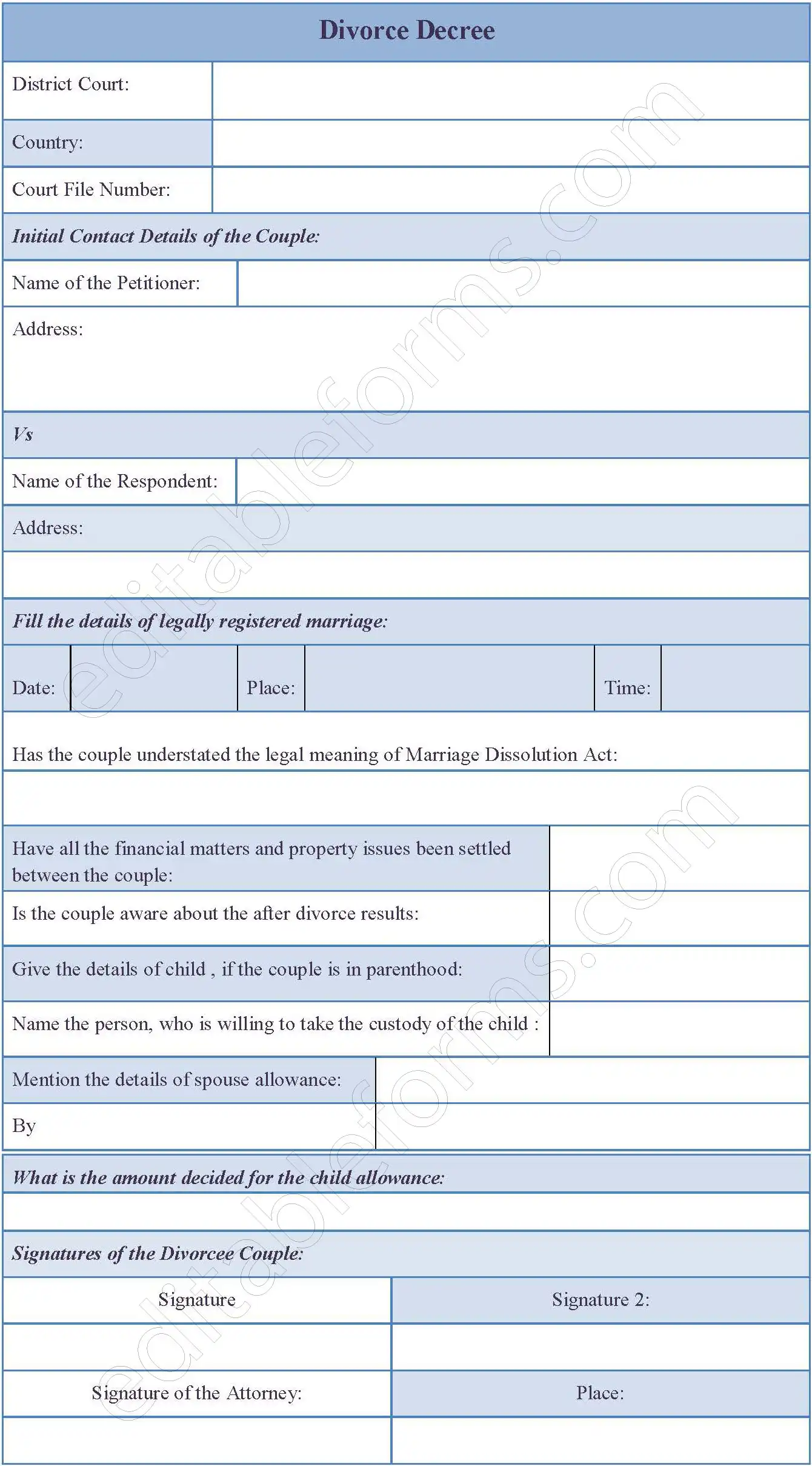 You can download the Form, customize it to your needs, and print it. The form is available in MS Word and Editable PDF formats, making it easy to personalize and incorporate into your documentation processes.
Understanding the Divorce Decree Form
The Divorce Decree Form is a legally recognized document that marks the official end of a marriage. It captures agreements between the parties and establishes rights and responsibilities after the divorce. This form provides a structured framework for addressing key aspects such as property division, child custody, and visitation. It also covers child support, alimony, and other pertinent issues specific to the divorce case.
Key Features of the Divorce Decree Form
Comprehensive Documentation:

The Divorce Decree Form encompasses all essential details pertaining to the divorce. It guarantees that no crucial aspects are overlooked or left open to interpretation.

Customization:

The form allows for customization based on the unique circumstances of the divorce. It provides sections to address specific concerns, ensuring an accurate reflection of the parties' intentions and agreements.

Legal Validity:

The Form is designed to comply with legal requirements and standards. By using this form, you can ensure your divorce agreement meets legal criteria, providing peace of mind and security.

Clear Communication:

The form facilitates clear communication among parties and legal professionals. It documents and enforces agreed-upon terms effectively.
The Form is an invaluable resource for individuals navigating the divorce process. It serves as a comprehensive and legally binding document that outlines the terms and conditions of the divorce, ensuring clarity and protection for all parties involved. By utilizing this form, you can streamline the divorce proceedings and establish a solid foundation for your post-divorce life.
Download Divorce Decree Form for only $6.54
If you are having problems downloading a purchased form, please Contact Us and include your receipt number and the exact name of the form you purchased, and our team will email you a copy.